MERKEL SHOCKED

Earlier, Chancellor Angela Merkel said Germany must crack down on hate, violence and hostility.

https://www.reuters.com/article/us-germany-shooting/jewish-leader-says-german-synagogue-attacked-by-gunman-inadequately-protected-idUSKBN1WP0Y6
"I am, like millions of people in Germany, shocked and dejected by the crime that was perpetrated in Halle yesterday," Merkel said to loud applause in an address to a trade union congress in Nuremberg.
Angela Dorothea Merkel is a German politician serving as Chancellor of Germany since 2005
ANGELA ESCAPED SLIPPED THROUGH IMPOVERISHED GERMANY RIDING ON THE COAT TAILS OF GOVERNMENT - she is a wastrel.
It is "angela's germany" which has been releasing fake news or refusing to release news for a very long time, who has openly supported muslim illegal aliens voting her in since 2005. She is a nancy pelosi of germany.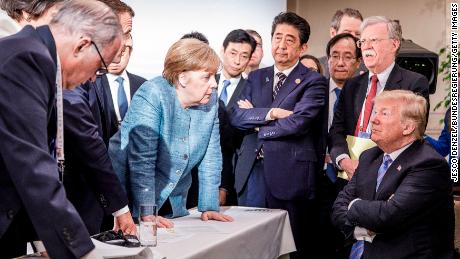 "angela threatening trump that dark forces are rising in EU". (muslim spring she's supporting. german ties with china and chinese manufacturnig - the attempt of germany to work with china to shut down usa's tech sector using german ubuntu and china androids - the list goes on and on - and is all the workings of top level parliament german officials not of german voters - germany now has a "top down" system again - where individuals have zero rights to prosecute and the state can easily perform cover-ups)
you can see in this picture angela isn't afriad to stand with communists - she is also not afraid to keep muslim attacks out of the press
hell o frauline pelosi !!